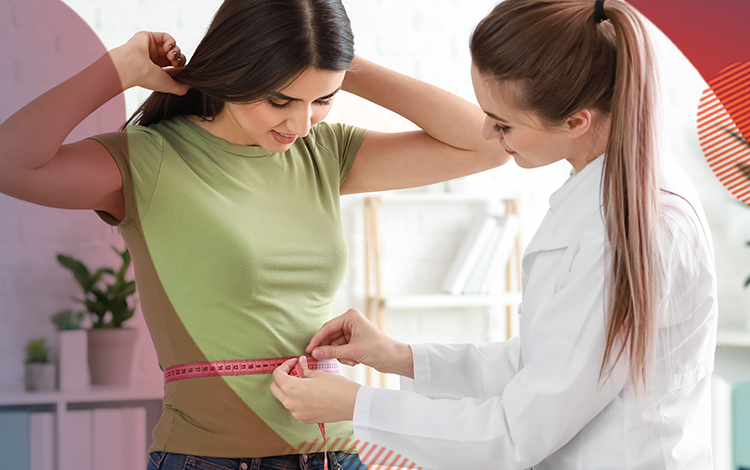 Primary care, Urgent care
Medical Weight Loss Program
We understand that losing weight and keeping it off can be challenging. However, with the guidance and care of the trained medical professionals at Fast Pace Health, you can successfully achieve the weight loss you need to feel healthier than ever before.
---
---
This service is offered in Tennessee, Kentucky, and Indiana* markets. Fast Pace Health does not offer pharmacologic weight loss management in the states of Louisiana and Mississippi.
Combined with some small changes in your diet and exercise habits, our medical weight loss program can make long-lasting improvements to your general wellness.
If you are overweight, just losing a small amount of weight can positively influence multiple health conditions, such as:
Asthma
Diabetes
Digestive Disorders
Heart Disease
High Blood Pressure
High Cholesterol
Low Back Pain
Osteoarthritis
Polycystic Ovarian Syndrome
Sleep Apnea
---
*Disclaimer for Indiana: Pharmacotherapy may be offered to individuals who have shown reasonable effort to lose weight in a treatment program using a regimen of weight reduction based on caloric restriction, nutritional counseling, behavior modification, and exercise without using controlled substances and that the previous treatment has been ineffective for the provider's patient.
If you are experiencing a medical emergency, please dial 9-1-1.
What is the process?
The Initial Consult
The initial consult involves a focused medical evaluation for diseases related to obesity and relevant factors, along with a physical examination. In addition, we will evaluate your current drug regimen and obtain a weight history, which includes past diet attempts. Many patients come to the clinic with undiagnosed diabetes, high cholesterol, thyroid disorders, abnormal liver tests, or obstructive sleep apnea. Additional testing may be recommended depending upon the medical history and physical findings.
Behavioral Modifications
Behavior plays a significant role in weight management. Modifying behaviors that contributed to developing obesity is one way to treat the disease of obesity either alone or in conjunction with other treatments. Diet and exercise are often the front-line of defense when it comes to weight loss and most individuals affected by obesity do struggle with this; however, diet and exercise should be the first place for you to start. Regardless of treatment choice, lifestyle modification through diet and exercise is essential to the success of any weight-loss program.
Pharmacotherapy (Weight Loss Medications)
The next tool that can be used to achieve weight loss and health improvement is medication. Pharmacotherapy may be offered to individuals affected by obesity who have failed to achieve weight loss through diet and exercise alone. Currently, there are several drugs that are approved for the treatment of obesity.
Including but not limited to:
Phentermine (Adipex-P®)
Orlistat (Xenical®)
Lorcaserin (BELVIQ®)
It is important to discuss all medication options with your health care provider.
Follow-up Visits
Patients are given the opportunity to revisit a topic or obtain more information on an area of interest during follow-up visits. The frequency of and interval between follow-up visits is determined on a patient-by-patient basis. Frequent visits (every 2 to 3 weeks) are encouraged until the initial weight-loss goal (5 to 10 percent of body weight) is achieved. Pharmacologic medication will be determined on a case-by-case basis by the provider. At that point, less frequent visits are typically scheduled as needed for individual patients. However, since obesity is considered a chronic life-long problem for many individuals, periodic continual follow-up is recommended.
Who qualifies for the program?
Eligibility for the medical weight loss program is primarily based on your body mass index (BMI). BMI is a number calculated based on a person's height and weight. To qualify for the weight loss program, a person must meet one of the following BMI metrics:
BMI greater than 30
BMI greater than 27 with a co-morbid condition such as type 2 diabetes, high blood pressure, sleep apnea, or high cholesterol
If your BMI is between 25 and 26.9, you may still be eligible for the weight loss program. Talk to your local provider about eligibility in weight loss programs.
---
Use the chart below to calculate your BMI.
The BMI calculator is provided for your information only. It is not a substitute for professional medical advice, and may not represent your true individual medical situation. It does not take all possible factors into account in its assessment of your healthy weight. Do not use this information to make significant changes in your diet, exercise regimen, or other aspects of your lifestyle without consulting your personal physician or other qualified health care provider as recommended by your physician. Please contact your physician if you have any questions or concerns.
Who does not qualify for the program?
While someone may meet the BMI criteria for the weight loss program, there are other contributing factors that may exclude them from being eligible for the program. Due to potential health concerns, the following factors or conditions will exclude someone from being a candidate for the program:
Patients with a history of psychotic illness
Patients with a history of heart disease (AMI, CHF, A-Fib, CVA, or TIA's)
Patients with a heart murmur II/IV or louder
Patients 65 years or older
Patients less than 18 years old
Certain medications cannot be taken or mixed with diet medications. These include:

MAO Inhibitors (Contraindicated within 14 days of taking)
Caffeine (Pill or powder form)
Ergotamine (Migraine medication)
ADHD medications: Cylert (pemoline), Adderall (amphetamine, dextroamphetamine), Ritalin, Metadate ER, Methylin (methylphenidate)
Dexedrine (sibutramine)
Any over the counter (OTC) caffeine (Caffeine is acceptable in coffee and soft drinks when consumed in moderation)
Sudafed (pseudoephedrine) or any cold or allergy medication with a "D" (ex. Zyrtec-D or Claritin-D)
Neo-synephrine (phenylephrine), commonly found in nasal spray and pill form
Related Resources