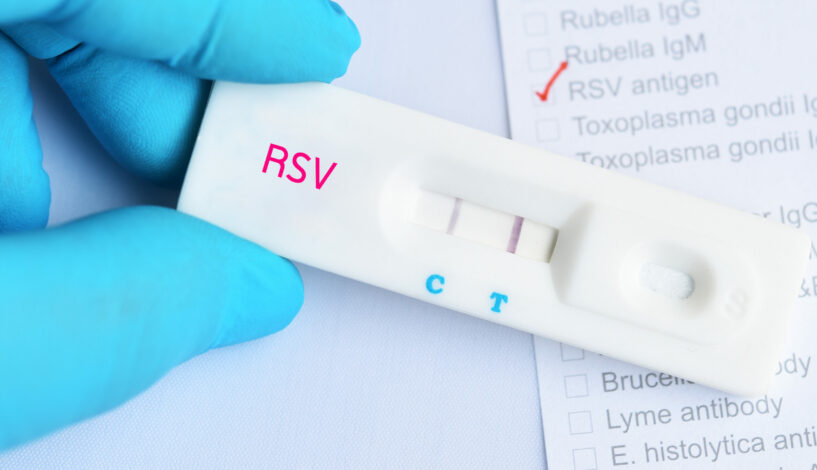 Covid-19 Testing, Primary care, Urgent care
Breaking down RSV — What it does who gets it and how to prevent it
This cold weather season, over two million children under five will be diagnosed with respiratory syncytial virus, or RSV, per the CDC. And right now, peak RSV spread season is in full swing. This infection, usually referred to as RSV, is usually not much more than a pesky upper respiratory condition in healthy adults, but can have dire consequences in the very young, the very old, and people with immune-system-compromising medical conditions, explains Fast Pace Health's Dr. Simon Spilkin.
As a parent, a caretaker of the elderly, or someone working with at-risk populations, you may be feeling a lot of pressure to prevent the spread of RSV this winter and to recognize warning signs of an infection. We know you probably have a ton of questions: How do I keep my kids from getting sick at daycare? Is RSV a serious illness? Is RSV just like a cold? How do infants get RSV? Here are our recommendations for keeping yourself and your loved ones safe from this viral infection this winter.
More than your average cold?
Is RSV a big deal for adults? And what, exactly, does RSV do to your body? This virus attacks the lungs and breathing passages, including the nose, throat, and larynx, causing inflammation and irritation. That understandably can sound frightening, but it is frequently stated that RSV is little more than the common cold — which is often the case for healthy adults and even older children. RSV symptoms in adults are likely to mirror minor cold or flu symptoms: coughing and sore throat, nasal drainage, and a mild fever. An adult who doesn't encounter children or the elderly on a regular basis and who doesn't visit a doctor for their symptoms may never even realize that they've contracted RSV.
And while that's good news for the healthy majority to whom RSV often resolves without complications, this respiratory infection has the potential to be more serious in vulnerable populations.
Patients span all ages, but children are especially vulnerable
RSV patients are most often five years old or younger, but almost all kids will have been exposed to the virus by the time they are two. Some children seem to manage RSV without a hitch — just as the adults in their household would — while others, even healthy children, inexplicably struggle to combat the condition.
The CDC estimates that up to 80,000 children under the age of five are hospitalized from the illness each year in the United States. Especially if you are a parent, you've almost certainly encountered some form of literature or media urging you to practice diligence in preventing the spread of RSV to children. If adults with no serious medical issues can get through this illness feeling little more than an inconvenient cough, why are children more impacted by RSV? And what is the risk that little ones face?
The impact of the COVID pandemic
"Last year, we saw a surge in the number of cases and hospitalizations from [RSV]," says Dr. Spilkin, "as well as changes to the typical RSV season, including an early peak. This has the effect of placing significant burden on our healthcare systems."
The CDC reports that children in this present age are uniquely vulnerable to severe RSV because of how protected they were in the pandemic years. In 2020 and 2021, children were largely kept home, withheld from school and daycare, didn't travel or encounter other children, and consequently have immune systems that are underexposed to this particular virus. The same may be true of other respiratory conditions such as rhinovirus and the flu.
But RSV cases appear to be finally trending downwards, Dr. Spilkin continues, even though numbers remain above the normal seasonal rate. "We all have a role to play in continuing this trend and preventing future surges."
However, severe RSV in babies and young kids isn't a new concept
Even before the COVID-19 pandemic produced countless children with sheltered immune systems, children under five have been vulnerable to severe RSV infections. Generally speaking, the younger the child, the higher the risk.
There are several factors at play that cause this: the small airways in the lungs, called bronchioles, are even tinier and narrower in young children, so inflammation is more likely to create issues with breathing, because less space needs to be crossed to significantly constrict or close the passageway. Because of this, RSV also opens up the gateway to more serious respiratory conditions, like pneumonia and bronchiolitis.
Babies, especially, are not able to vocalize their needs, so their breathing challenges may not be readily noticeable until symptoms are severe — and they may not understand or be capable of coughing to clear mucus from the air passageways. Parents may also struggle to keep infants hydrated when their little ones' throats are sore, so risk of dehydration may increase.
Doing our part to dampen the spread
Whether you're a parent or a CNA or a daycare employee, there's a high chance you're somehow connected to a potential conduit of RSV. Vulnerable people and children are not yet able to be vaccinated against this virus, so even the smallest efforts that we can all take to hinder this nasty illness can go a long way.
Best prevention practices for RSV are similar to any other respiratory condition. Dr. Spilkin recommends thorough and frequent handwashing, avoiding touching your or your children's faces with unwashed hands, not sharing eating utensils, covering coughs and sneezes, and avoiding close contact with people experiencing symptoms as the best ways to discourage getting RSV yourself and spreading it to children or the elderly.
In a household with infants under six months old, parents should watch very closely for decreases in appetite, a sense of lethargy or lessened activity, irritability, or pauses in breathing that last longer than 10 seconds. These symptoms may point to a severe RSV infection and should be immediately addressed with a pediatrician, primary care physician, or urgent care clinic.
"Although there is not a specific cure for RSV, there can be tremendous value in seeing your Fast Pace Health provider for fast and simple testing," says Dr. Spilkin. "Together with simple prevention measures, you can help prevent illness from spreading to others who are sometimes far more vulnerable than ourselves. Simply put, prevention can be the cure!"
Related Resources